In 1995, the final of the Korac was held between ALBA Berlin and Stefanel Milan, where the Germans were crowned champions thanks to a draw in their first match on Alpine soil and sealed victory on their home turf thanks to the attack of their star player Alibegovic
Quarterfinals
Ulker – Pau Orthez
ALBA Berlin – Fortitudo Bologna
Trieste – Cáceres
Stefanel Milan – Panionios
Semi-finals
Pau Orthez – Stefanel Milan
ALBA Berlin – Cáceres
Stefanel Milan were unable to take advantage of their home advantage in the first match of the Korać Cup final against a very inspired Alba Berlin, who drew a promising 87. The Germans, led by unstoppable Serbian point guard Saša Obradović (34 points), controlled the game in their early stages and managed to open up a small gap on the score (20-25), but the hosts, with a 12-0 lead, regained the initiative and went into the break with a three-point lead (45-42). In the second half, coinciding with the early elimination of giant Behnke, Stefanel gained a maximum of ten points (55-45, min. 25), although at the expense of their players' personal fouls. In the final minutes, Obradović scored two consecutive hat-tricks that gave Alba the lead, although another three-point shot from Portaluppi in the final attack prevented the Milanese from losing. Alba Berlin became the first German team to win a European club title after defeating Stefanel Milan (85-79) in the second leg of the Cup final Korać, thus making the draw in the first leg on Italian soil a good one. The local hero was Slovenian power forward Teoman Alibegović, who led the Berlin victory with 34 points, achieved through magnificent percentages of throwing (11 of 14 in two shots, 3 of 3 in three pointers and 3 of 6 in free throws), in addition to catching 11 rebounds.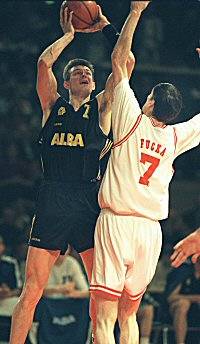 ALBA Berlín
*Obradovic – 23.0p, 4.0r
*Freyer – 4.0p, 1.0r
*Rodl – 12.0p, 3.0a
*Alibegovic – 27.5p, 8.5r
*Behnke – 5.0p, 5.0r
Okulaja – 4.5p, 2.5r
Ozturk – 6.0p, 4.5r
Baeck – 3p, 2r. (1)
Machowski – 5p. (1)
Stefanel Milán
*Gentile – 22.5p, 3.5r
*Bodiroga – 15.0p, 1.5a
*Pessina – 7.5p, 3.5r
*Fucka – 6.5p, 6.5r
*Alberti – 1.0p, 2.0r
De Pol – 11.5p, 7.5r
Portaluppi – 5.5p
Sconochini – 8.5p, 3.0r
Cantarello – 5.0p, 2.5r.