In 2001 the cup was held in Malaga, where the first explosion of Pau Gasol was experienced, who brought together all the lights leading Barcelona to beat Real Madrid in the final (80-77) and winning the MVP of the tournament. It was clear that we were in front of a differential player
The dominance moved in spurts, first Barcelona started better, then Madrid had their best minutes, with Herreros marking the distances with their baskets, this allowed them to arrive with white advantage at the break (36-43). In the restart the blaugrana defense allowed a partial of (18-9), then the talent of Gasol did the rest.
Pau finished with 25 points, seconded by Karnisovas (12 points) and Digbeu (11 points), for Barcelona. In Madrid, Herreros also went to 25 points, followed by Milic and Struelens, both with 11 points.
Before…
Quarter-finals
Barcelona 98 – Fuenlabrada 76
Valencia Basket 73 – Students 54
Baskonia 71 – Caceres 86
Real Madrid 73 – Unicaja Málaga 70
Semi-finals
Barcelona 95 – Valencia Basket 69
Caceres 71 – Real Madrid 80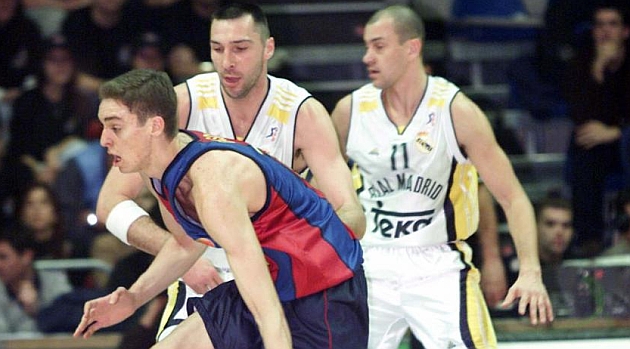 Barcelona 80
*Jasikevicius – 9p, 4a, 3r
*Hawkins – 6p, 4a, 3r
*Karnisovas – 12p, 4r, 1br
*Gasol – 25p, 6r, 3a
*Dueñas – 6p, 8r, 1a
Rodríguez – 0p, 1a
De la Fuente – 8p, 4r, 1br
Savic – 3p, 2r
Elson – 0p, 3r, 2br
Digbeu – 11p, 1r, 1br
Navarro – 0p, 2r
Real Madrid 77
*Djordjevic – 8p, 1a
*Herreros – 25p, 3r, 3a
*L.Angulo – 5p, 2r, 2a
*Iturbe – 1p, 3r, 2br
*Meek – 9p, 8r, 1t
Struelens – 11p, 8r
Milic – 11p, 4r, 2a
Zidek – 2p, 1r, 1br
López – 5p, 5r, 5a