In 2007, the cup was held in Malaga, where Barcelona, after a four-year drought, won the cup again. In addition it did it of solvent form, surpassing a Real Madrid very poor in attack (69-53). Jordi Trías was the MVP of the tournament. The defense was the key blaugrana to win his title, leaving in 61.6 points on average to their rivals throughout the cup
The Blaugranas came out strong, dominating in defence and clear in attack. Madrid gave for moments authentic offensive penalty, staying in 5 points in the first quarter and arriving at the 15 in the rest, when Barcelona already won (31-15) without doing either too much. In the second half the Whites tried to put some pride in front of a controlling Barça until the end.
Lakovic (16 points), Navarro (14) and MVP Trias (10 points), were the best for Barcelona. In Madrid, Bullock (15 points), Reyes (14 points) and Hervelle (10 points 13 rebounds).
Before…
Quarterfinals
Unicaja 62 – Barcelona 77
Baskonia 82 – Seville 73
Real Madrid 85 – Gran Canaria 82
Girona 82 – Joventut 84
Semi-finals
Barcelona 84 – Joventut 70
Baskonia 72 – Real Madrid 74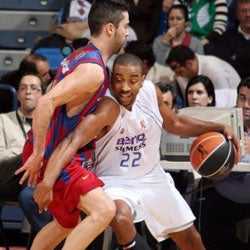 Barcelona 69
*Lakovic – 16p, 5a, 4r
*Navarro – 14p, 4a, 3r
*Basile – 0p, 4r, 1br
*Trías – 10p, 4r, 3a
*Vázquez – 8p, 4t, 3r
Marconato – 0p, 2r, 1t
De la Fuente – 0p, 2r
Kakiouzis – 3p, 1r, 1t
Ukic – 8p, 2r, 1a
Grimau – 10p, 5r, 2br
Real Madrid 53
*Tunceri – 6p, 1br
*Bullock – 15p, 2a, 1r
*Tomas – 3p, 1r, 1t
*Reyes – 14p, 3r, 2br
*Hernández Sonseca – 0p, 3r
Smith – 4p, 5r, 3br
Sekulic – 1p, 4r, 1a
Milic – 0p
Hervelle – 10p, 13r, 2br
López – 0p, 1r