In 2023 the Copa del Rey was held in Badalona, and it will surely be a tournament remembered forever. Unicaja was proclaimed champion beating first Barcelona, then Real Madrid, and Tenerife, in an unprecedented final, in the decisive game. The Andalusian team wins the cup again 18 years later
It was a very tactical final, with few differences and many worries about not letting the rival get too far on the scoreboard. At halftime the score was 39-37 for the islanders.
A constant equality that only changed from the last quarter, which began with a tie (60-60). From this moment on, Tenerife felt a little more married than Unicaja and lost some fluency against a rival that scored important three-pointers at key moments, which allowed them to take a sufficient advantage to win the title. Tyson Carter, vital against Real Madrid and in the final stretch against Tenerife, was chosen as the MVP.
Before…
Quarterfinals
Real Madrid 86 – Valencia 85
Barcelona 87 – Unicaja Málaga 89
Tenerife 89 – Gran Canaria 73
Joventut 94 – Baskonia 81
Semifinales
Real Madrid 82 – Unicaja Málaga 93
Joventut 72 – Tenerife 73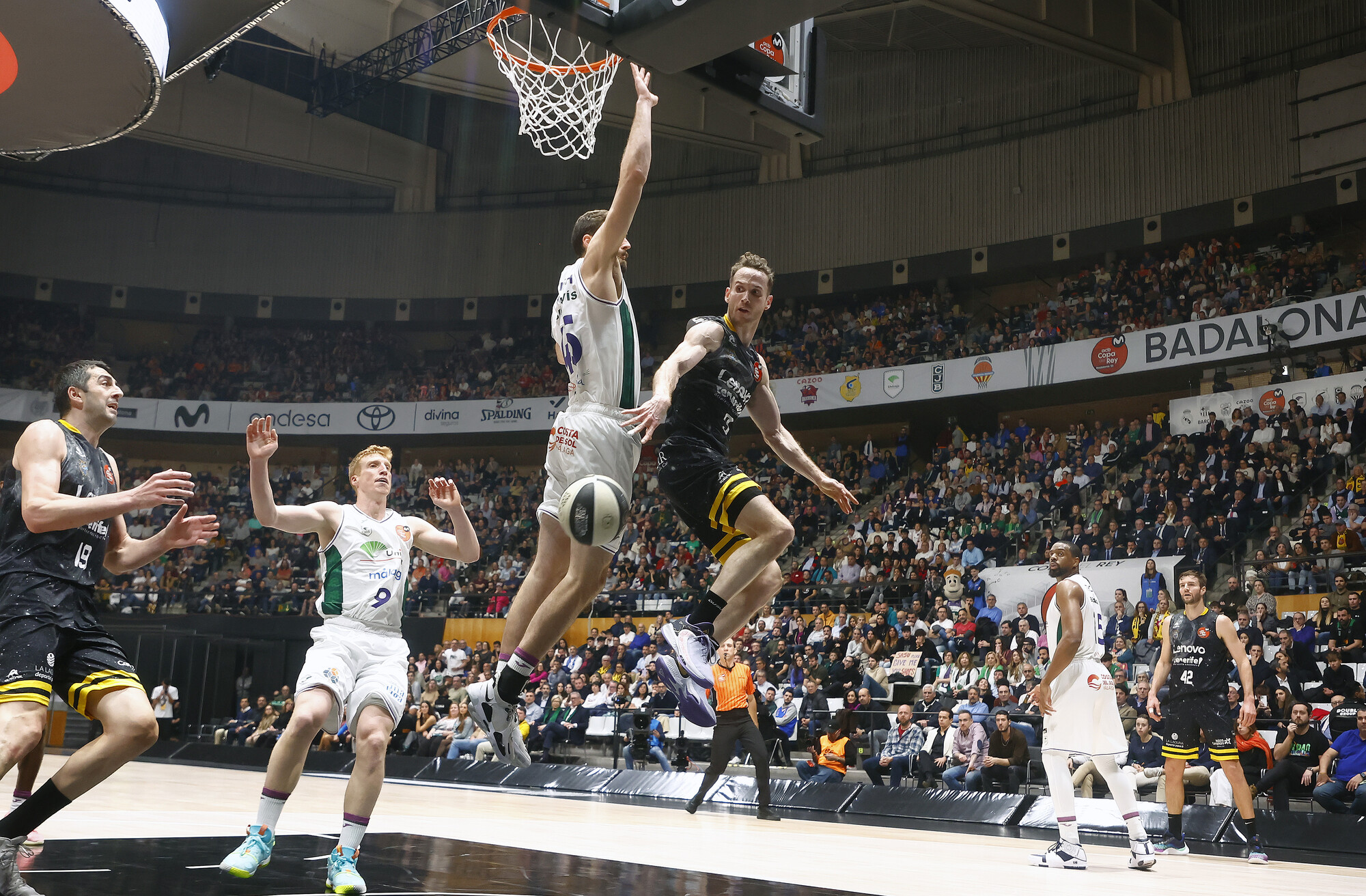 Unicaja Málaga 83
*Perry – 6p, 2r, 2a
*Carter – 17p, 3a, 1r
*Barreiro – 8p, 2br, 1r
*Ejim – 3p, 5r, 2a
*Kravish – 8p, 8r, 2a
Díaz – 6p, 9a, 2r
Brizuela – 7p, 2r, 1a
Kalinoski – 14p, 9r
Thomas – 5p, 2r, 1br
Osetkowski – 9p, 2r, 1br
Djedovic –
Saint-Supery –
Lenovo Tenerife 80
*Fitipaldo – 3p, 1r, 1a
*Salin – 7p, 4r, 1br
*Cook – 3p, 1r, 1a
*Doornekamp – 3p, 3r, 1a
*Shermadini – 20p, 9r, 2a
Huertas – 21p, 10a, 4r
Fernández – 16p, 2a, 2r
Rodríguez – 0p.
Abromaitis – 3p, 5r, 1a
Guerra – 4p, 1r
Diagné –