In 2004 the cup was held in Seville, where Baskonia won their fourth King's Cup, beating a Joventut who had to wait another year to win their cup in the final. The final was disputed, but the Argentinean connection of Baskonia, put them one step ahead, at the end (81-77). The MVP was given to Rudy Fernandez, even though he did not win the title
It was a close final, with quite a few chances on the scoreboard, especially in the first half, which was reached with (38-35) at half-time. Joventut had their chances especially from the end of the third and the beginning of the last quarter, but it was Baskonia who took the good run at the key moment, and this earned them the cup.
Scola (22 points) and Nocioni (20 points), with the invaluable help of Macijauskas (17 points), were the best in Baskonia. In Joventut, Rudy (15 points), Digbeu (14 points) and Marco (13) were the top scorers.
Before…
Quarter-finals
Baskonia 89 – Estudiantes 83
Manresa 87 – Joventut 90
Valencia Basket – 76 – Seville 86
Barcelona 80 – Real Madrid 79
Semi-finals
Seville 63 – Baskonia 88
Joventut 86 – Barcelona 72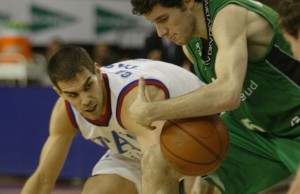 Baskonia 81
*Prigioni – 3p, 5a
*Macijauskas – 17p, 2a, 2br
*Nocioni – 20p, 7r, 2a
*Scola – 22p, 7r, 2a
*Betts – 1p, 3r
Calderón – 9p, 1a, 1r
Vidal – 3p, 1r
David – 6p, 3r, 1a
Splitter – 0p, 1r
Joventut 77
*Marco – 13p, 2a, 1br
*Rudy – 15p, 6r, 2a
*Vázquez – 2p, 1r
*Alzamora – 7p, 4r, 2br
*Tabak – 12p, 5r, 2a
Radulovic – 12p, 5r
Guzman – 0p, 3a, 1r
Martin – 2p, 2r
Digbeu – 14p, 3r, 1br
Dumas – 0p, 1a