In 1998 the cup was held in Valladolid. A city that will be marked forever in the history of Valencia, as the Taronja won their first cup after beating Joventut in the final by (89-75), with Nacho Rodilla as MVP of the tournament
The final had two very different parts, the first one where everything was more equal, so we arrived at the break with (42-41), and the second one, where Valencia opened a gap so we don't look back anymore.
Up to six players scored 11 or more points for Valencia, it was one of the keys to Taronja's victory, with Swinson (19 points) and Luengo (17 points) as the top scorers. In Joventut, Espinosa (15 points), Turner (12 points 8 assists) and Beard (12 points 11 rebounds) were the best.
Before…
Quarterfinals
Baskonia 64 – Valencia 72
Valladolid 75 – Real Madrid 73
Joventut 86 – Barcelona 85
Students 82 – Manresa 87
Semi-finals
Valencia 78 – Valladolid 73
Joventut 82 – Manresa 70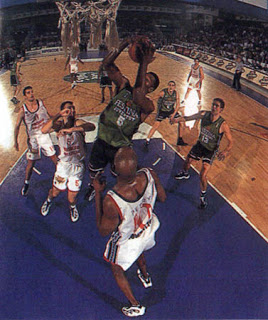 Valencia 89
*Rodilla – 15p, 7r, 2br
*Luengo – 17p, 4r, 3a
*Swinson – 19p 5r, 1br
*Zubizarreta – 0p
*Albert – 0p, 1r
Álvarez – 13p, 1r, 1br
Maluenda – 2p, 2r
Perry – 12p, 6r, 3t
Radunovic – 11p, 4r, 3a
Joventut 75
*Turner – 12p, 8a, 5br
*Toolson – 10p, 6r, 1a
*Espinosa – 15p, 6r, 1t
*García – 9p, 2r, 2t
*Beard – 12p, 11r, 1br
Corrales – 8p, 4a, 1br
Sanmartín – 5p, 2r
Biota – 0p, 1br
Murcia – 4p, 1r, 1br