In 1993 the cup was held in A Coruña, where Real Madrid returned after four years of drought to win the cup, beating Joventut in the final by a tight score (74-71), with Sabonis and Biriukov as the most outstanding players. The MVP of the tournament was for the Baskonia player Joe Arlauckas, a curious decision, although the level of the power forward was extraordinary, because the Basques did not even get to play the final
It was a hard-fought final, and very complicated for Real Madrid, which at times had a really bad time against Villacampa, Rafa Jofresa and Pressley, who were ahead at half-time (33-40). But as the minutes went by, Sabonis' influence on the track gradually became apparent. Ferran, helped by Thompson, tried to minimize the contribution of the Lithuanian giant, in the end without success.
Sabonis finished with 25 points and 11 rebounds, making a fearsome duo with Biriukov (20 points) on the outside. Antunes, with 10 points, and Brown with 8, contributed to the cause. In Joventut, Villacampa (22 points) pulled the cart, helping by Rafa Jofresa and Pressley, both with 14 points.
Before…
Quarterfinals
Joventut 86 – Manresa 57
Students 75 – Zaragoza 91
Real Madrid 101 – Seville 89
Baskonia 78 – Barcelona 74
Semi-finals
Joventut 85 – Zaragoza 71
Real Madrid 89 – Baskonia 70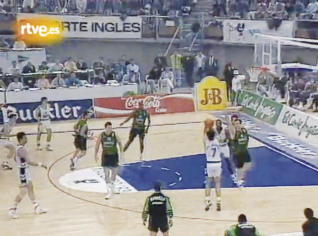 Real Madrid 74
*Antunez – 10p, 3r, 2a
*Simpson – 2p, 3r, 1a
*Cargol – 4p, 1a
*Brown – 8p, 8r
*Sabonis – 25p, 11r, 2t
Lasa – 0p, 1a
Santos – 0p, 2r
Biriukov – 20p, 1r, 1br
A.Martín – 5p, 3r, 2br
Joventut 71
*R.Jofresa – 14p, 3r, 1br
*Villacampa – 22p, 5br, 2r
*Pressley – 14p, 3r, 2br
*Thompson – 6p, 5r, 1br
*Ferrán – 7p, 4r
Kopicki – 3p, 2br, 1r
T.Jofresa – 0p
Morales – 2p, 1t
Smith – 3p, 2r, 2t