In 2023 the BCL final four was held in Malaga, in what seemed an ideal location to see a Spanish final again, with the local Unicaja and the reigning champion Tenerife. The reality was quite different, with both teams falling in the semifinals. In the final, Telekom Bonn overcame Hapoel Jerusalem (77-70) thanks to the leadership of point guard TJ Shorts II, the eventual MVP
The BCL maintains its best-of-three quarterfinal playoff format, with a final four to decide the champion.
Quarterfinals
Hapoel Jerusalem – AEK Atenas (2-1)
Tenerife – Manresa (2-1)
Strasbourg – Bonn (1-2)
Unicaja Málaga – Murcia (2-0)
Semifinals
Unicaja Málaga 67 – Telekom Bonn 69
Lenovo Tenerife 68 – Hapoel Jerusalem 69
In the final, the Germans dominated the scoreboard for most of the first half, with TJ Shorts sustaining his team's game. At halftime with (37-28) against a Hapoel rather obtuse in attack.
At the restart, the Turks showed their best side, with Randolph at the head, and things tightened towards the last and final quarter (57-55). The final minutes were again on Bonn's side, just when Shorts, the true protagonist of this final four, took over again to put the hammer on Jersusalem.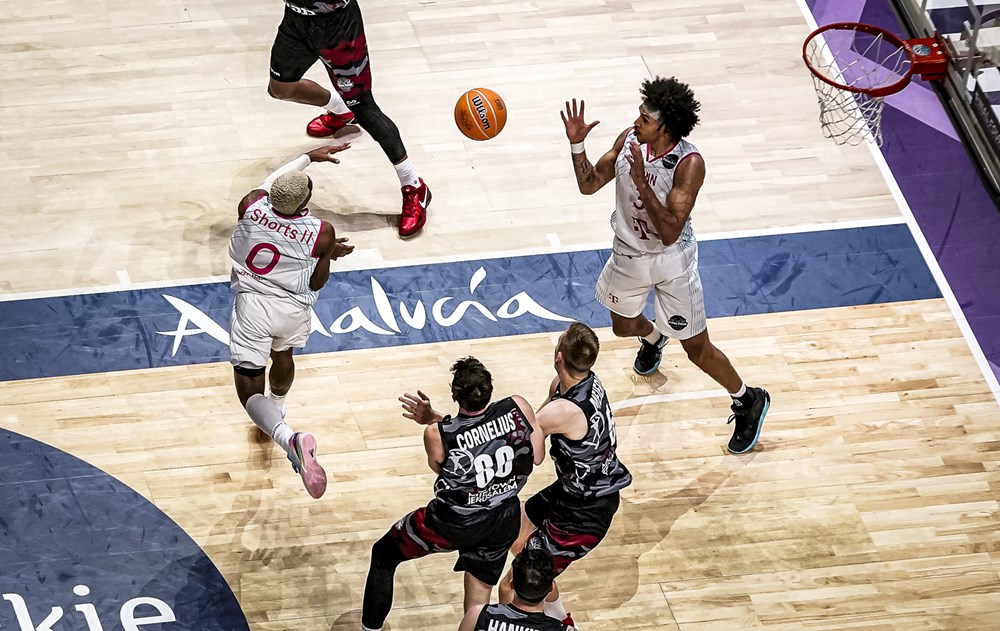 Telekom Bonn 77
*Shorts – 29p, 3a
*Malcolm – 8p, 6r
*Delany – 3p, 3r
*Ward – 8p, 3r
*Kratzer – 0p, 6r
Herrera – 11p, 2r
Hawkins – 13p, 2r
Williams – 4p, 2r
Kessens – 1p, 4r
Hapoel Jerusalem 70
*Smith – 7p, 5a
*Cornelius – 3p, 1r
*Randolph – 27p, 6r
*Mejeris – 12p, 6r
*Hankins – 7p, 10r
Carrington – 9p, 2r
Blayzer – 5p, 2r
Segev – 0p, 1r
Brown – 0p, 1r
Vene – 0p, 1r