In 2022 the final four was held in Bilbao, where we were offered a Spanish final to decide the champion, in which Tenerife overcame Manresa by (87-98), led by a spectacular Marcelinho Huertas, MVP at 38 years of age. The islanders returned to the top of the BCL five years later

The Champions League changed its format, with a first best-of-three playoffs and a final four.
Quarterfinals
Hapoel Holon – Strasbourg (2-0)
Tenerife – Tofas Bursa (2-0)
Cluj Napoca – Ludwigsburg (1-2)
Manresa – Málaga (0-2)
Semifinals
Hapoel Holon 71 – Tenerife 78
Ludwigsburg 55 – Manresa 63
The final went Tenerife's way in the third act, when the islanders made a 17-33 score that allowed them to live calmly in the final minutes of the game.
Huertas led Tenerife with his 13 points and 14 assists, setting the right pace for his team. Salin, with 18 points, put the scoring on the outside, and near the rim Wiltjer, 17 points, and Shermadini, 14. In Manresa Moneke, the MVP of the regular season, was the best with his 24 points and 8 rebounds.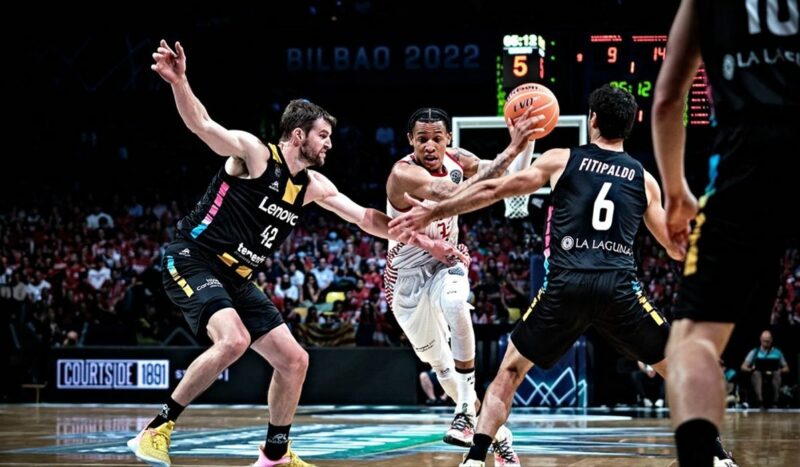 Tenerife 98
*Huertas – 13p, 14a
*Salin – 18p, 3r
*Sastre – 9p, 2r
*Doornekamp – 11p, 7r
*Guerra – 4p, 2r
Fitipaldo – 7p, 4a
Todorovic – 0p
Sulejmanovic – 5p, 1r
Wiltjer – 17p, 2r
Shermadini – 14p, 3r
Smith – 0p
Manresa 87
*Pérez – 12p, 2a
*Francisco – 12p, 3r
*Valtonen – 2p, 2r
*Moneke – 24p, 8r
*Bako – 2p, 3a
Thomasson – 15p, 3a
Martínez – 0p
Vaulet – 6p, 2r
Maye – 10p, 4r
Sima – 4p, 3r
Steinbergs – 0p