In 2005 the cup was held in Zaragoza, where he saw Unicaja Malaga premiered his record of Copa del Rey, after beating in the final against Real Madrid by (80-76), with Jorge Garbajosa as MVP of the tournament
The final was always kept short, although always with the feeling that the Andalusians were always a step ahead (40-34). Madrid seemed to take its best version in the third act, but in the end Unicaja arrived with enough of an advantage to secure the first cup title in its history.
Bremer and Garbajosa, both with 17 points were the top scorers for the champions. In Madrid, Bullock, against his ex, tried to do the battle on his own, with 28 points, seconded by Bennett (17 points).
Before…
Quarterfinals
Real Madrid 86 – Estudiantes 76
Barcelona 76 – Valencia Basket 83
Alicante 62 – Unicaja Málaga 79
Baskonia 77 – Gran Canaria 75
Semi-finals
Real Madrid 80 – Baskonia 77
Valencia Basket 82 – Unicaja Málaga 90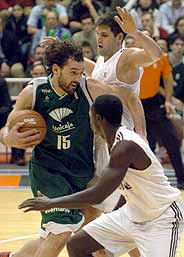 Unicaja Málaga 80
*Cabezas – 2p, 1r, 1a
*Bremer – 17p, 3a, 3br
*Risacher – 13p, 2br
*Garbajosa – 17p, 5r, 4a
*Vázquez – 9p, 3r, 2t
Rodríguez – 9p, 3r, 2a
Tabak – 0p, 1t
Sánchez – 4p, 1r, 1a
Pietrus – 2p, 3r, 1t
Herrmann – 7p, 1r
Real Madrid 76
*Bennett – 17p, 4br, 1a
*Bullock – 28p, 2a, 1r
*Sonko – 8p, 2r, 2a
*Reyes – 2p, 4r, 1a
*Burke – 8p, 3r, 2br
Fotsis – 2p, 2r
Herreros – 3p, 1br
Gelabale – 8p, 6r, 1t
Hervelle – 0p, 5r