In 2021, the King's Cup was held in Madrid. A competition marked by the fact that it was played without spectators due to the coronavirus pandemic, and the final was played between Barcelona and Real Madrid. The Catalans forged their victory with an impeccable first half, leaving the final practically sealed at the halfway point of the game (73-88). Cory Higgins was voted MVP
And it was all decided at half-time, when Barcelona went on a run of two halves, (11-20) in the first quarter, and (20-32) in the second, which put them 21 up at the half (31-52).
A first half that left Real Madrid, who could do little more than make up the final score, with the final result.
Before…
Quarterfinals
Tenerife 87 – Burgos 76
Real Madrid 85 – Valencia 74
Baskonia 96 – Joventut 87
Barcelona 103 – Unicaja Málaga 93
Semi-finals
Real Madrid 85 – Tenerife 79
Barcelona 77 – Baskonia 68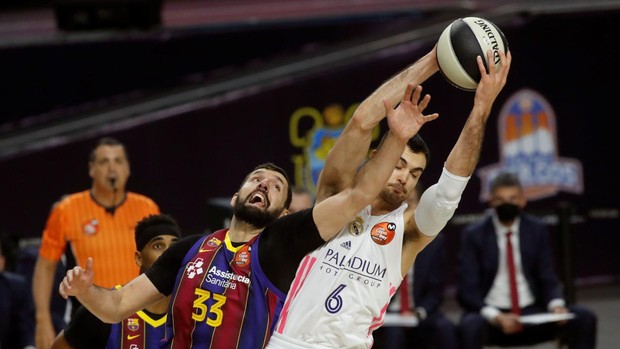 Barcelona 88
*Calathes – 12p, 9a, 5r
*Higgins – 20p, 3r, 1a
*Hanga – 3p, 2r, 1a
*Mirotic – 12p, 5r
*Pustovyi – 2p, 1t
Westermann – 0p, 4a, 3r
Bolmaro – 0p
Kuric – 6p, 3r, 1br
Abrines – 8p
Smits – 13p, 2r, 1a
Oriola – 2p, 6r, 1a
Davies – 10p, 8r, 2br
Real Madrid 73
*Llull – 8p, 1r, 1a
*Causeur – 5p, 2r
*Abalde – 15p, 2r, 2a
*Deck – 9p, 3r, 1br
*Thompkins – 8p, 5r
Alocén – 9p, 3a, 1r
Laprovittola – 0p, 1a
Carroll – 0p
Garuba – 0p, 3r, 2br
Tyus – 0p
Reyes – 2p, 2r, 1a
Tavares – 17p, 9r, 5t