Madrid hosted the 2019 Cup, and lived one of the most southern cup finals in the history of the competition, where the referees, in a final between Barcelona and Real Madrid, chained mistakes, even having the instant-replay to check the last move, to take the final to the limit, with Barcelona as the final champion
At one point in the final, Real Madrid put up a 11-25 split that put the Whites in a clear lead (46-60) with 10 minutes to go, but Barcelona got into the game, thanks to the performance of MVP Thomas Heurtel, and so we reached the end of regulation time, where anyone could have won, and ended up with a draw (77-77).
The extra time was a real nightmare, with the referees making two decisions that were as decisive as they were disastrous. With 12 seconds left in extra time (90-92), Randolph stopped the completion of a counterattack by Singleton with a clear foul, possibly even unsportsmanlike, that was ignored by the referees. That action gave wings to the Whites, who with a 2+1 Carroll grabbed a Cup handle 4.3 seconds from the end (93-92).
But the grotesque was to have its climax on the final play of the match. Tomic tried to score at last and his shot, after slightly touching the Madrid hoop, was blocked with two hands against the board by Randolph. A legal cap by all means, but the referees, perhaps with a guilty conscience after the previous move, reviewed the move and decided, inexplicably, to give validity to a basket that never entered, but that is worth a title for Barcelona.
Such was the scandal that the referees of the final, were many days without refereeing. For many Barcelona is fair champion for the first mistake on Singleton, for others it had to be Madrid for the last play, but the only thing certain is that history says that the cup traveled to Barcelona, after winning (94-93).
Before…
Quarterfinals
Barcelona 86 – Valencia Basket 79
Iberostar Tenerife 88 – Unicaja Málaga 78
Baskonia 89 – Joventut 98
Real Madrid 94 – Movistar Estudiantes 63
Semi-finals
Barcelona 92 – Iberostar Tenerife 86
Real Madrid 93 – Joventut 81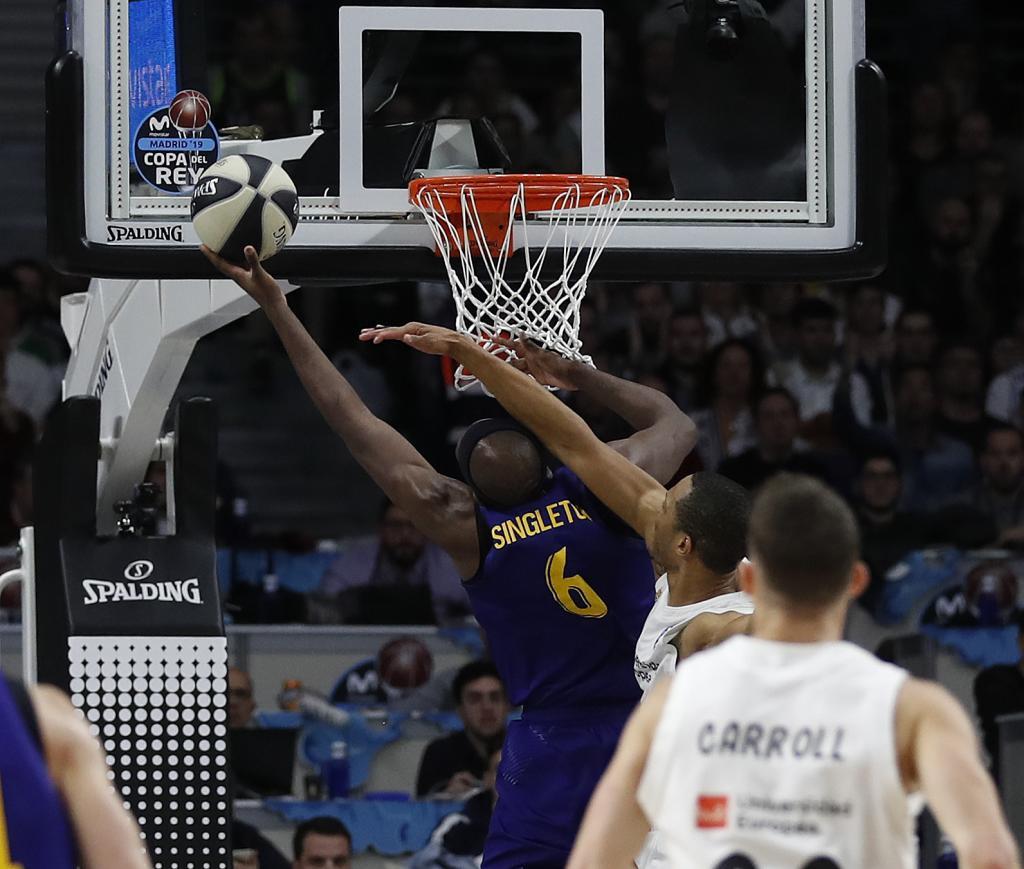 Barcelona 94
*Pangos – 10p, 3a, 1r
*Ribas – 2p, 1r
*Claver – 15p, 7r, 2a
*Singleton – 4p, 9r, 2a
*Tomic – 14p, 7r, 2a
Seraphin – 6p, 1r
Hanga – 2p, 3r, 1a
Heurtel – 22p, 6a, 3r
Oriola – 7p, 2r
Kuric – 12p, 1r, 1br
Real Madrid 93
*Campazzo – 19p, 5a, 4r
*Causeur – 14p, 2r, 1a
*Deck – 2p, 2r
*Randolph – 16p, 7r, 2br
*Ayón – 12p, 8r, 5a
Rudy – 5p, 2br, 1r
Reyes – 2p
Carroll – 5p, 2r
Tavares – 2p, 2r, 2t
Llull – 13p, 3r, 1a
Taylor – 3p, 2r, 1a