In 2018 the Cup was held in Gran Canaria, where we lived the tight victory of Barcelona, surpassing in a final of maximum tension to Real Madrid, by (92-90). Heurtel, like the following season, was crowned MVP of the tournament
Real Madrid began by dominating the first quarter, but from that moment on the Blaugranas took control of the game until almost the beginning of the last quarter, when they managed to win by (67-52). But Madrid got into the game facing the last possessions with a great comeback, which led us to a heart attacking end, but Barcelona tempered the nerves, and not without certain refereeing controversies, they took the title after four years of drought.
Ribas (21 points) and Tomic (17 points), Sanders and Hanga, both with 12, and MVP Heurtel (8 points 7 assists) who were more dedicated to leading than scoring in the final. In Madrid, Carroll 18, and Thompkins 17, were the top scorers, seconded by Campazzo, Doncic and Rudy, all three with 14 points.
Before…
Quarterfinals
Barcelona 94 – Baskonia 90
Valencia Basket 72 – Iberostar Tenerife 79
Real Madrid 89 – Unicaja Malaga 84
Herbalife Gran Canaria 107 – Montakit Fuenlabrada 92
Semi-finals
Barcelona 87 – Herbalife Gran Canaria 74
Iberostar Tenerife 59 – Real Madrid 77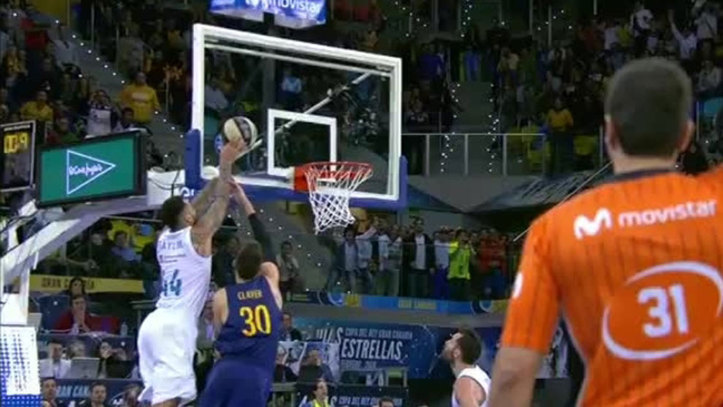 Barcelona 92
*Heurtel – 8p, 7a, 4r
*Sanders – 12p, 4r, 1t
*Hanga – 12p, 3r, 1t
*Moerman – 4p, 7r, 2br
*Tomic – 17p, 5r
Ribas – 21p, 4r, 2a
Navarro – 0p, 1r
Oriola – 9p, 1r, 1a
Koponen – 2p, 1r
Claver – 7p, 5r, 1br
Real Madrid 90
*Campazzo – 14p, 3a, 2r
*Causeur – 2p, 2r
*Doncic – 14p, 5r, 3a
*Thompkins – 17p, 3r, 2br
*Tavares – 2p, 4r, 2t
Randolph – 2p, 1t
Rudy – 14p, 4r, 4br
Reyes – 2p, 1r
Ayón – 3p, 1r
Carroll – 18p, 1a, 1br
Taylor – 2p, 3br, 2a