In 2017 the cup was held in Vitoria, where we saw an exciting competition and the champion was not decided until the last plays of the final between Real Madrid and Valencia Basket. In the end, White won by only two points (97-95). Llull, who was lethal in the final minutes, MVP of a tournament marked by «the was field behind» the protagonist himself against Andorra, in the quarterfinals
Only the first quarter showed some distance Real Madrid, from there the game was equal, without a clear dominator. That's how the key moment was reached, the decisive minutes, where anyone could have won, but Llull made the exact difference to decide the final.
Llull (22 points) on the outside, and Randolph (20 points) and Ayón (18 points) held off Real Madrid, in addition to the Carroll triples (14 points). In Valencia, Dubljevic (28 points) was the top scorer of the final, seconded by San Emeterio (17 points).
Before…
Quarterfinals
Real Madrid 99 – Morabanc Andorra 93
Valencia Basket 88 – Herbalife Gran Canaria 72
Barcelona 82 – Unicaja Málaga 70
Baskonia 90 – Iberostar Tenerife 81
Semi-finals
Baskonia 99 – Real Madrid 103
Barcelona 67 – Valencia Basket 76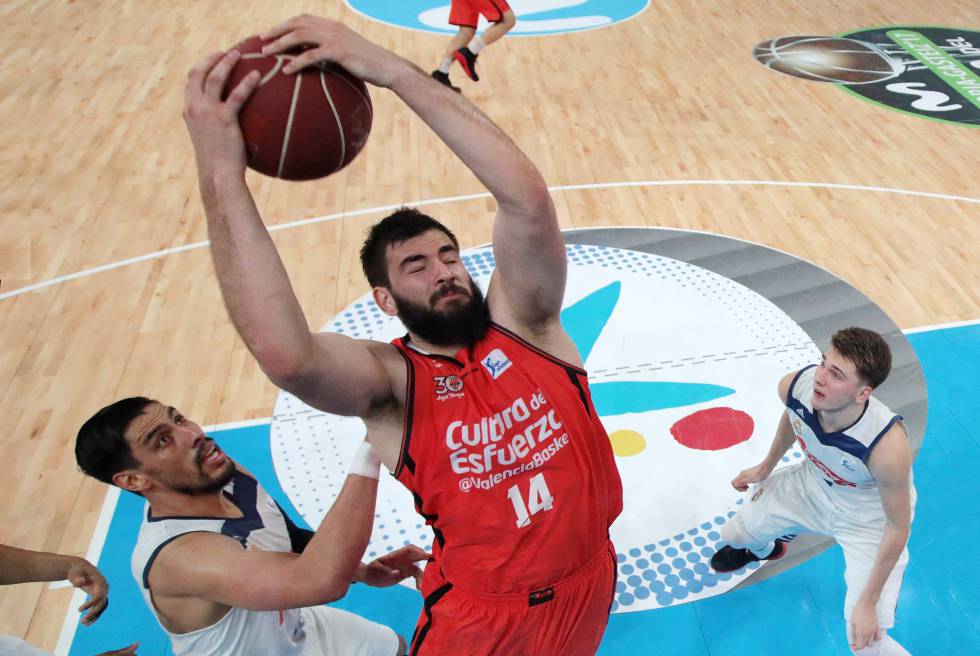 Real Madrid 97
*Llull – 22p, 4a, 1br
*Rudy – 2p, 2a, 1r
*Taylor – 5p, 1r, 1a
*Randolph – 20p, 7r, 1a
*Reyes – 1p, 1a
Draper – 0p, 1r, 1a
Nocioni – 0p, 3r, 2a
Doncic – 9p, 6a, 4r
Maciulis – 3p, 1a
Ayón – 18p, 2r, 2t
Carroll – 14p
Hunter – 3p, 2r
Valencia Basket 95
*Van Rossom – 6p, 7a, 1r
*Martínez – 7p, 2r, 1a
*San Emeterio – 17p, 3r, 1a
*Sikma – 6p, 4r, 3a
*Dubljevic – 28p, 5r, 1a
Thomas – 4p, 6r
Diot – 2p, 2a, 1t
Sato – 5p, 5r, 1br
Vives – 2p, 2a, 1r
Oriola – 6p, 8r, 1a
Sastre – 12p, 2r, 2br
Kravtsov – 0p