In 2015 the cup was held in Gran Canaria, where Real Madrid won again, stringing together their second consecutive title, and again as a year before, beating Barcelona (77-71) in the grand final. Rudy Fernández, took the MVP
It was a very even final, only from the third quarter Real Madrid took some air, and this allowed him to get better positioned to the last plays and to sentence the cup.
Rudy (16 points 5 recoveries 5 assists) led his team, well supported by Ayón, Nocioni and Sergio Rodríguez, all three with 10 points. For Barcelona, Tomic had a great game, with 25 points and 11 rebounds, but sometimes he was a little lonely.
Before…
Quarterfinals
Real Madrid 85 – CAI Zaragoza 73
Unicaja Málaga 86 – Bilbao Basket 78
Barcelona 85 – Valencia Basket 80
Herbalife Gran Canaria 67 – Joventut 74
Semi-finals
Real Madrid 100 – Joventut 83
Unicaja Málaga 79 – Barcelona 87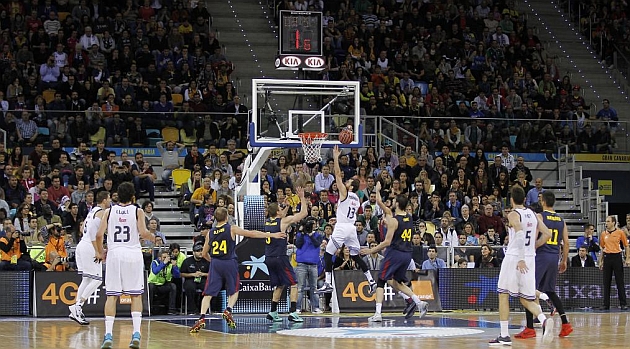 Real Madrid 77
*Llull – 0p, 2a, 1r
*Carroll – 5p, 2r
*Rudy – 16p, 5a, 5br
*Reyes – 8p, 1r
*Ayón – 10p, 7r, 1a
Rivers – 2p, 1r
Nocioni – 10p, 7r, 4t
Campazzo – 0p
Maciulis – 8p, 2r, 1t
Rodríguez – 10p, 4r, 4a
Bourousis – 4p, 2r, 1t
Slaughter – 4p, 1r
Barcelona 71
*Satoransky – 11p, 3r, 1br
*Oleson – 4p, 3r, 2a
*Hezonja – 0p, 3r
*Doellman – 11p, 8r, 3a
*Tomic – 25p, 11r, 3t
Huertas – 0p, 4a, 1r
Abrines – 7p, 4r, 1br
Navarro – 6p
Pleiss – 0p, 1r, 1t
Thomas – 7p, 4r, 1t
Lampe – 0p, 1r
Nachbar – 0p