In 2014 the cup was held in Malaga. A cup not suitable for the heart, decided at the last second, in a final between Real Madrid and Barcelona, by a basket of Sergi Llull for the history of the competition (77-76). The whites after a year of parenthesis, returned to raise the trophy.  Mirotic took the MVP of the lathe, but the ecstasy was taken by the Menorcan shooting guard
It was a very even final, with few advantages, Real Madrid enjoyed for moments of small rents, and that as we already commented everything was decided in the last possessions, where Llull, from the corner, sentenced the Cup.
Rudy (19 points) and Mirotic (17 points 11 rebounds) were the best by Real Madrid, seconded by Llull (9 points 6 assists) and Reyes (9 points). In Barcelona, Huertas (15 points 8 assists), Tomic (14 points 9 rebounds) and Oleson (11 points 6 rebounds).
Before…
Quarterfinals
Barcelona 102 – Iberostar Tenerife 60
Valencia Basket 74 – Baskonia 73
Real Madrid 83 – Herbalife Gran Canaria 60
Unicaja Málaga 74 – CAI Zaragoza 79
Semi-finals
Barcelona 89 – Valencia Basket 81
Real Madrid 98 – CAI Zaragoza 66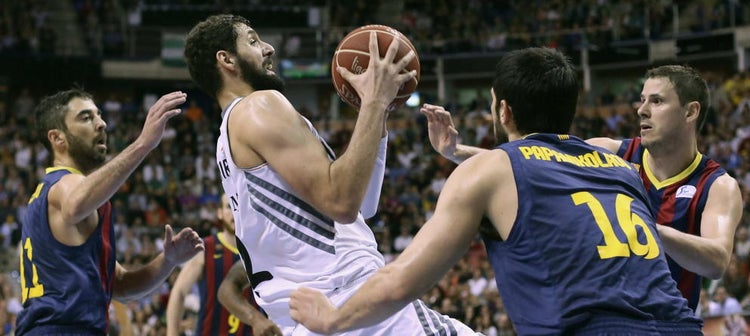 Real Madrid 77
*Llull – 9p, 6a, 1r
*Rudy – 19p, 3a, 3r
*Darden – 2p, 3r
*Mirotic – 17p, 11r, 3t
*Bourousis – 2p, 6r
Draper – 5p, 2a, 1r
Reyes – 9p, 6r, 1a
Rodríguez – 8p, 4a, 1r
Carroll – 2p, 1r
Slaughter – 4p
Mejri – 0p
Barcelona 76
*Huertas – 15p, 8a, 2br
*Navarro – 5p, 4a, 1r
*Papanikolaou – 2p, 5r, 1a
*Lorbek – 8p, 4r
*Tomic – 14p, 9r, 1t
Pullen – 0p
Dorsey – 7p, 1r, 1br
Sada – 0p, 1r, 1br
Abrines – 7p
Todorovic – 0p
Oleson – 11p, 6r, 1a
Nachbar – 7p, 1r, 1a