In 2003 the cup was held in Valencia, and there was a very exciting final between Barcelona and Baskonia, where only after some extra time the Blaugranas were able to win (84-78) and win the first of their three titles they won this year. Bodiroga, in a great year for him, was named MVP of the tournament. Dueñas, immense in the painting, was the key to the final
Barcelona started stronger, and in a few minutes they were clearly on the scoreboard (23-10). From this point on, Baskonia was improving their sensations and little by little they were closing the gap. It was the tonic of almost all the final, Barcelona trying to leave definitively, and Baskonia grabbed the encounter in search of its opportunity. That's how we got to the final minutes, where we finished with (69-69) at the end of the 40 regulation minutes. In the extra time Barcelona had more clarity in attack, and thanks to that achieved a sufficient income to win the cup even with some tranquility.
Dueñas (18 points 17 rebounds) was the man of the final, although the MVP gave it to Bodiroga (10 points 9 rebounds 7 assists) for his level throughout the tournament. Jasikevicius (17 points) and Fucka (16) were at a great level. Navarro contributed 11 more points. In Baskonia, Bennett (18 points) and Scola (14 points) were the most outstanding.
Before…
Quarterfinals
Valencia Basket 81 – Gran Canaria 70
Estudiantes 74 – Baskonia 81
Unicaja Málaga 77 – Joventut 75
Barcelona 72 – Real Madrid 59
Semi-finals
Valencia Basket 51 – Baskonia 56
Unicaja Málaga 77 – Barcelona 78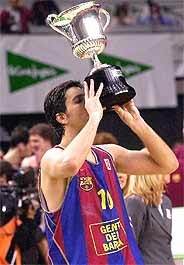 Barcelona 84
*Rodríguez – 5p, 1r, 1a
*Navarro – 11p, 3r, 2a
*Bodiroga – 10p, 9r, 7a
*Fucka – 16p, 8r, 2t
*Dueñas – 18p, 17r, 3br
Alzamora – 0p
Femerling – 0p, 3t, 2r
Jasikevicius – 17p, 4r, 2a
De la Fuente – 7p, 7r, 2br
Baskonia 78
*Bennett – 18p, 4a, 3r
*Foirest – 7p, 6r, 3a
*Nocioni – 10p, 10r, 3t
*Gadou – 11p, 3r, 2a
*Scola – 14p, 12r, 1a
Calderón – 10p, 5r, 2a
Vidal – 6p, 4r
Palladino – 2p, 3r, 2br
Sims – 0p, 1r
Hernández – 0p