2020 will be remembered forever because of the pandemic that struck the world earlier this year. A health reason that forced the EuroLeague and EuroCup to be stopped on 6 March and cancelled almost three months later, when the decision was officially announced on 25 May

EuroLeague gave itself deadlines to try and finish the season. The alternative of playing the rest of the competition in a single venue was considered, offering cities such as Kaunas or Belgrade, but in the end the difficulty of moving between countries, something legally not possible at that time, led to the decision.
On the sporting front, on Matchday 28, with six games left in the regular season, Anadolu Efes was a solid leader led by a brilliant Shane Larkin, with a record of 24-4. Behind them, Real Madrid and Barcelona, led by Mirotic and Higgins, were competing for second place (22-6), while CSKA Moscow and Maccabi, both with 19-9 and already mathematically qualified for the playoffs, were fighting for the always important fourth place.
Further down and farther away, the battle was different, that of being in the playoffs, with Panathinaikos (14-14) 6th, Khimki (13-15) 7th, and Fenerbahce (13-15) 8th, and with many more teams with options, such as Zalgiris Kaunas, Valencia Basket, Olympiacos, Armani Milan and Baskonia, all tied at (12-16), and even Red Star, 14th, with (11-17).
Without an official champion, Anadolu Efes feel they have missed a chance to win, as they were the team that clearly dominated the regular season. Special mention should also be made of Barcelona, who after many years of drought were bidding to return to a final four, and Real Madrid and CSKA Moscow, with Maccabi's permission, to repeat the feat for another year. It will never be known.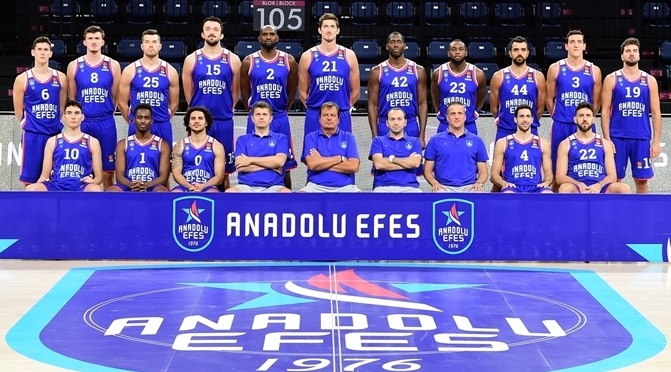 At the EuroCup everything stopped between the conclusion of the TOP16 and the start of the quarter-final matches. The Bologna Virtus of Teodosic, Partizan, Promitheas or Unicaja Malaga were all in contention for the title, but the competition did not resume until the final cancellation.