The competition begins with 24 teams, which were left in 8 teams that after two previous rounds go to the regular group
In the previous round
CSKA Sofia eliminated KTP
Real Madrid eliminated Utrecht
Joventut eliminated Warszawa
The Brno eliminated the Izmir
Maccabi eliminated the Gieben
Zadar eliminated Panathinaikos
Mechelen eliminated Benfica
Olimpia Milan eliminated Wien
After the two previous rounds 8 teams played the regular league. They were divided into two groups of four teams of which at the end the first two from each group would go directly to the semi-finals. The competition system played everyone against everyone in a round robin match and the winner by points scored a victory.
GROUP A
ZADAR (3-0)
OLIMPIA MILAN (2-1)
JOVENTUT (1-2)
CSKA SOFIA (0-3)
GROUP B
BRNO (3-0)
REAL MADRID (2-1)
MACCABI (1-2)
MECHELEN (0-3)
Once the regular league was over, the semi-finals were played in a round-robin format between BRNO and OLIMPIA MILAN and REAL MADRID against ZADAR.
SEMIFINALS
BRNO eliminated OLYMPIA MILAN (64-63); (103-86)
REAL MADRID eliminated ZADAR (76-62); (65-68)
Real Madrid won their fourth European Cup after a final this year in Lyon, where the white team did not start as favourites, neither due to physical conditions (with the Sevillian captain in plaster and Emiliano injured in the back) nor due to precedents (defeat against Spartak in the previous group). However, thanks to the efforts of Miles Aiken and Wayne Brabender (with their perfect suspensions) and Clifford Luyk (with their superb hooks), Real Madrid managed to overcome all the odds and pick up a convincing win after a game in which they almost always took the lead.
The match began in a very even manner, with inaccuracies on both sides (the first basket was not scored until two minutes later). After the initial nervousness and adjustments by both teams, Real Madrid and Spartak entered a phase of great equality, with constant exchange of baskets. The Czechoslovakians initially dominated by Konvička (one of the best shooters in Europe) until they achieved a maximum lead of four points (8-12), although Real Madrid would get their first lead soon after (19-18). However, the severity of the refereeing caused both teams to be quickly charged with personal fouls, and the first casualty was Clifford Luyk, who by the 12th minute had four. To make matters worse, two minutes later Emiliano had to be replaced due to the back injury he was suffering from. His replacement, young Nava, did not disgrace Emiliano at all, as he completely cancelled out the dreaded Pištělák. With a little over a minute to go, the Madrid players, with their magical Brabender-Aiken-Luyk triangle, achieved their maximum advantage (50-43), although the Czechoslovakians managed to reduce it to 52-49 by the time the break was reached.
With the second half barely underway, Spartak neutralized Madrid's short lead and took the lead again (52-53), but it was no more than a mirage. Real Madrid began to increase the gap to a maximum of ten points (84-74, min. 32), coinciding with the eliminations of Cvrkal and Pištělák (the latter being particularly important). But personal fouls also weighed heavily on the Real Madrid players (with Aiken, Luyk and Brabender with four each) and the Czechoslovak reaction was not long in coming. The last five minutes of the game were thus a short lead for Real Madrid (86-82), although the Whites were able to play their cards intelligently in the face of Spartak's overwhelming final push and managed to win.

REAL MADRID 98
*Sainz – 6p, 2r.
*Emiliano – 6p, 3r.
*Brabender – 22p, 4r.
*Aiken – 26p, 10r.
*Luyk – 24p, 6r.
Nava – 10p, 1r.
Paniagua – 0p.
Ramos – 4p, 2r.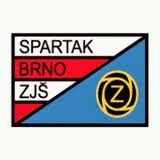 BRNO 95
*Pistelak – 14p, 2r.
*Z.Bobrovsky – 9p, 1r.
*Konvicka – 27p, 4r.
*J.Bobrovsky – 24p, 3r.
*Novicky – 13p, 11r.
Vlk – 2p, 1r.
Cvrkal – 4p, 3r.
Jambor – 2p, 2r.
Final Copa de Europa 67/68 Real Madrid -98- TJ Spartak ZJŠ Brno-95 . La cuarta. #APorLaDécima pic.twitter.com/Ikrfn7pt2B

— Manu Suarez (@ManuSuarez16) May 17, 2018