In the 2023 EuroCup we lived the first continental title in the history of the islanders, beating Turk Telekom Ankara in the final in a close game (71-67). John Shurna was the MVP of a night that Gran Canaria will never forget
The competition maintained, as in recent years, the single-game playoff format, which leaves absolutely no margin for error.
Round of 16
Prometey 87 – Hamburgo 79
Promitheas 89 – Bourg 75
Ulm 92 – Buducnost 83
Turk Telekom 77 – Brescia 69
Gran Canaria 72 – Bursaspor 66
Lietkabelis 97 – París 98
Hapoel Tel Aviv 90 – Venezia 80
Joventut 89 – London Lions 78
Quarterfinals
Prometey 80 – Promitheas 57
Turk Telekom 86 – Ulm 76
Gran Canaria 104 – París 74
Joventut 82 – Hapoel Tel Aviv 74
Semifinals
Turk Telekom 76 – Prometey 74
Gran Canaria 89 – Joventut 86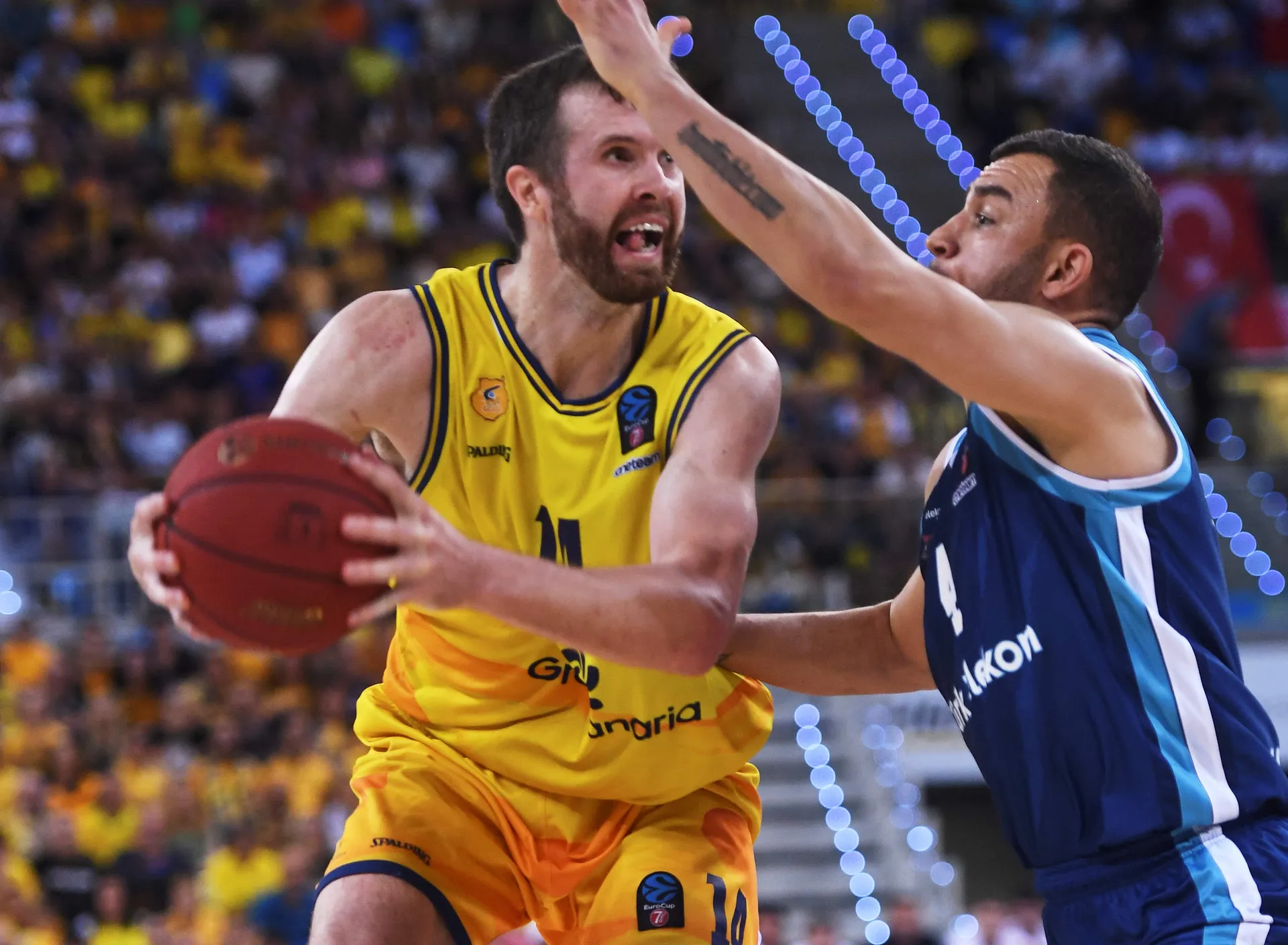 The Canary Islanders, playing at home, came out stronger, and theirs were the advantages throughout the first half, especially in the second quarter, when they chained a partial that put them (50-33) at the break.
Everything pointed to a placid victory for the islanders, but on the contrary, the Turks came out in the restart showing their best basketball, and with a hard partial for the locals of (11-22), they got into the game with 10 minutes to go (61-55). The last quarter was typical of maximum tension for what they were playing, with very few points, many inaccuracies, to which Gran Canaria responded with solvency to maintain the minimum advantages until the final whistle.
Gran Canaria 71
*Albicy – 13p, 3a
*Slaughter – 16p, 4r
*Brussino – 11p, 3r
*Shurna – 18p, 3r
*Balcerowski – 5p, 5r
Inglis – 6p, 2r
Bassas – 0p, 1a
Benite – 2p, 1a
Salvo – 0p, 2r
Diop – 0p, 2r
Stevic – 0p, 2r
Turk Telekom Ankara 67
*Taylor – 4p, 4a
*Grant – 16p, 7r
*Bouteille – 17p, 3r
*Yilmaz – 0p, 3r
*Jones – 17p, 11r
Yagmur – 3p, 4r
Erden – 3p, 1r
Eric – 0p
Sestina – 7p, 4r