In 2011 the cup was held in Madrid, where Barcelona, superb throughout the tournament, showed an unparalleled defense to beat Real Madrid in the final (60-68) in a match that broke after the break. Alan Anderson dressed as Juan Carlos Navarro and with 19 points he led his team and took the MVP
In a final marked by a game to few points, everything was decided in the second half, after arriving with a draw to (30-30), where Barcelona managed better in a very defensive game, and with the inspiration of Anderson doing damage.
Anderson finished with 19 points, seconded by Lorbek (9 points) and Morris (8 points). At Madrid, Tomic (12 points) and Prigioni (10 points) were the top scorers.
Before…
Quarterfinals
Valladolid 60 – Valencia 83
Real Madrid 78 – Gran Canaria 72
Baskonia 76 – Bilbao Basket 74
Barcelona 86 – Joventut 66
Semi-finals
Valencia 59 – Real Madrid 69
Baskonia 73 – Barcelona 92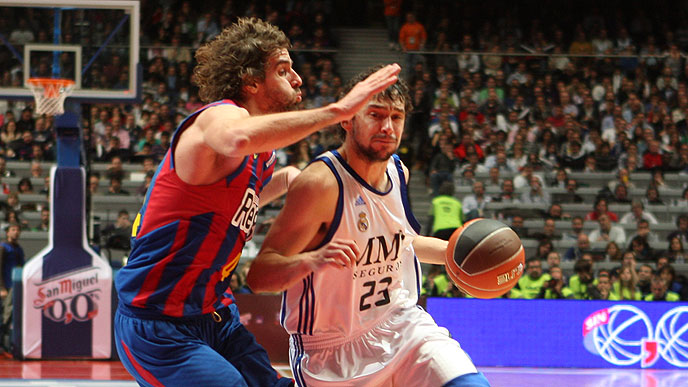 Barcelona 68
*Rubio – 1p, 2r, 2br
*Navarro – 7p, 1a
*Anderson – 19p, 4r, 1a
*Lorbek – 9p, 4r
*Perovic – 2p
Sada – 7p, 6r, 6a
Vázquez – 4p, 1r, 1t
Ingles – 1p
N`Dong – 6p, 8r, 1br
Morris – 8p, 6r
Grimau – 4p, 2a, 1r
Real Madrid 60
*Prigioni – 10p, 3r, 2a
*Tucker – 9p, 3r, 1t
*Suárez – 8p, 9r, 3a
*Reyes – 3p, 2r
*Tomic – 12p, 7r, 1t
Mirotic – 8p, 3r, 1t
Rodríguez – 8p, 2a, 2br
Fischer – 2p, 2t, 1r
Llull – 0p, 3r, 1a