In 2009 the cup was held in Madrid, where the final was played by Unicaja Malaga and Baskonia. The title went to the Basques after a great game that needed an extra time to know the champion (100-98). Mirza Teletovic, who scored 20 points in the final, was named MVP of the tournament
Unicaja seemed to get off to a better start, but Baskonia managed to keep things on track for the break (43-44). This gave the Basques wings to dominate for quite a few minutes of the second half, but now it was up to the Unicaja to even the score and reach the final minutes with their swords held high. Teletovic had the shot that could decide the match but his triple did not go in (87-87). In extra time Baskonia took the lead, thanks mainly to Mickeal's points. It was a great finish, anyone could have won, but luck was on the Baskonia side.
Teletovic and Mickeal, both with 20 points, were the top scorers for Baskonia, followed by Rakocevic (18 points) and Vidal (16). For Unicaja, Haislip (23 points), Archibald and Gomis, both with 16.
Before…
Quarter-finals
Joventut 75 – Students 80
Barcelona 83 – Real Madrid 75
Unicaja Málaga 79 – Gran Canaria 69
Baskonia 82 – Valencia 66
Semi-finals
Students 71 – Unicaja Málaga 78
Barcelona 77 – Baskonia 90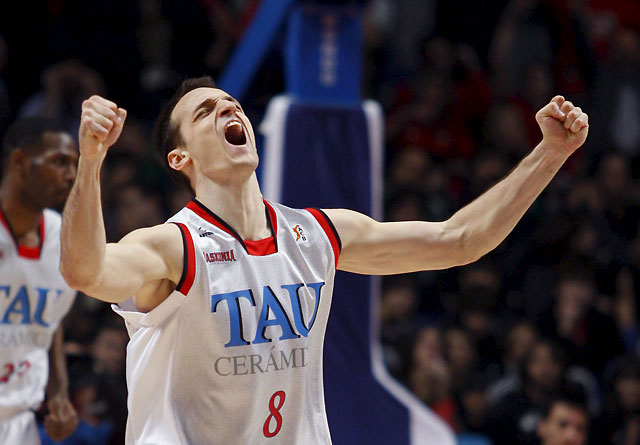 Baskonia 100
*Prigioni – 4p, 2r, 2a
*Rakocevic – 18p, 4a, 3r
*Mickeal – 20p, 10r, 2t
*McDonald – 8p, 7r, 1a
*Splitter – 12p, 6r, 2br
Ilievski – 2p, 1r, 1br
Vidal – 16p, 3r, 2a
Teletovic – 20p, 2r
San Emeterio – 0p
Barac – 0p
Unicaja Málaga 98
*Cabezas – 5p, 2r, 1a
*Welsch – 8p, 1r
*Jimenez – 2p, 2r, 2a
*Haislip – 23p, 5r, 1t
*Archibald – 16p, 13r, 4t
Cook – 9p, 4a, 2br
Gomis – 16p, 3r, 1a
Rodríguez – 3p, 2r, 2br
N`Dong – 13p, 6r, 1t
Gabriel – 3p, 2a, 1r