In 1990 the cup was held in Gran Canaria, and lived closely the exhibition of Davis, who led his Zaragoza to beat Joventut in the final (76-69), with one of the best exhibitions in memory of a cup final
The Black Greens tried their luck, Villacampa on the outside and Lampley on the inside, to try and win the cup (38-35), but in the end they had to give in to the MVP Mark Davis, who literally went off the map.
Davis ended up with 44 points, almost 60% of his team's points, with a 16/26 series of shots. Villacampa was the top green-black scorer with 22 points.
Before that…
Quarterfinals
Joventut 94 – Breogan Lugo 78
Barcelona 83 – Granollers 85
Zaragoza 85 – Girona 79
Real Madrid 84 – Baskonia 82
Semi-finals
Joventut 93 – Granollers 81
Zaragoza 74 – Real Madrid 73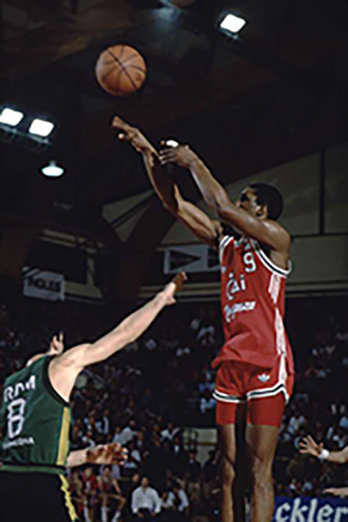 Zaragoza 76
*P.Arcega – 5p, 2r, 2a
*Davis – 44p, 5r, 2a
*Zapata – 6p, 6r, 1a
*Andreu – 1p, 1r, 2t
*Bellostenny – 10p, 9r, 4br
F.Arcega – 3p, 4r, 1br
Lorente – 5p, 3br, 1a
Aldama – 0p
Murcia – 2p, 1r, 1a
Joventut 71
*Montero – 10p, 5r, 1a
*Villacampa – 22p, 3r
*Lampley – 13p, 7r, 2t
*Morales – 7p, 7r, 2br
*Johnson – 11p, 5r, 2br
Ruf – 0p, 1br
R.Jofresa – 6p, 1r, 1a
T.Jofresa – 0p, 1br
Margall – 0p