In 1989, the cup was held in A Coruña, where they were able to beat Barcelona in an intense final (85-81) to become champions. Petrovic was the top scorer of the match, in a great duel with Epi. Rogers away from the spotlight, made a great game that was worth a title
It was a constant give and take, from start to finish. The break was reached with a Blaugrana advantage (43-48). At the end everything was decided in the last minutes, where Barcelona paid dearly for the elimination of three of its regular players, Epi, Jiménez and Waiters, in a very intense match.
Petrovic finished with 27 points, 14 from the free throw, Rogers (23 points), Fernando Martín (10 points) and Biriukov (10 points), the best of Madrid. In Barcelona, Epi (20 points), Costa (17) and Norris (15 points 15 rebounds).
Before…
Quarterfinals
Real Madrid 88 – Huesca 64
Joventut 86 – Students 71
Barcelona 91 – Valladolid 80
Zaragoza 115 – Caja de Ronda 110
Semi-finals
Real Madrid 99 – Joventut 74
Barcelona 88 – Zaragoza 78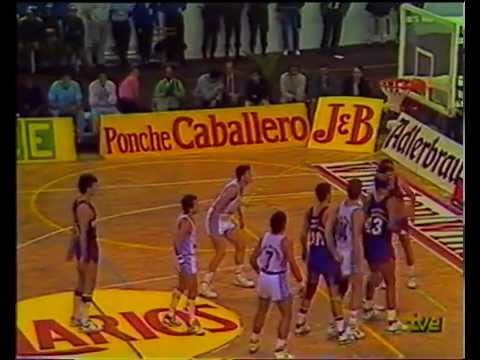 Real Madrid 85
*Petrovic – 27p, 3r, 2a
*Biriukov – 10p, 1r, 1a
*Rogers – 23p, 6r, 1t
*F.Martín – 10p, 5r, 2a
*Romay – 6p, 4r, 1t
Llorente – 8p, 3r, 1br
Villalobos – 0p
Cargol – 1p, 2br, 1t
Barcelona 81
*Solozábal – 12p, 2r, 2a
*Epi – 20p, 3r
*Jiménez – 10p, 1r
*Norris – 15p, 15r, 2a
*Waiters – 3p, 4t, 3a
Costa – 17p, 1r, 1a
Abad – 0p
Soler – 0p
Crespo – 4p, 2r, 2a