In 1987 the cup was celebrated in Tenerife, where Barcelona was proclaimed champion, in which it was his first cup in the ACB era and in the first edition in the format to final to 8. The final game was played to many points, and in this basketball at the end Barcelona won (110-102) thanks mainly to the great performance of Wallace Bryant, perfectly supported by his exteriors
It was a final to many points, points and more points. Defences were conspicuous by their absence (54-58). In the second half the pace did not slow down one iota. Quick plays and more points. Both teams were looking for the good streak, the winner, and it was decided on the Blaugrana side.
Wallace (29 points), Epi and Sibilio, both with 16 points, and Simpson, 15 from the bench, the best of Barcelona. In the Joventut the points were mainly of four, Villacampa (26 points), Schultz (23 points), Johnson (22) and Margall (19).
Before…
Quarter-finals
Joventut 97 – Canary Islands 92
Bilbao 89 – Real Madrid 84
Barcelona 104 – Granollers 90
Zaragoza 103 – Students 87
Semi-finals
Joventut 102 – Bilbao 91
Barcelona 117 – Zaragoza 88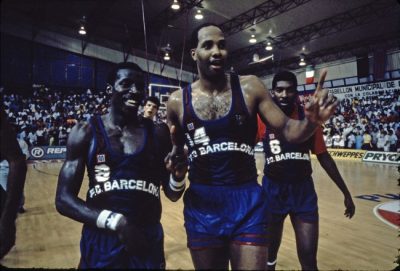 Barcelona 110
*Solozábal – 11p, 2a, 1r
*Epi – 16p, 1r, 1br
*Sibilio – 16p, 3r, 1t
*Jiménez – 10p, 7r
*Bryant – 29p, 10r, 2t
Costa – 5p, 2r
Trumbo – 8p, 3r
Simpson – 15p, 1r, 1br
Joventut 102
*Montero – 12p, 5r, 1a
*Villacampa – 26p, 2r, 2a
*Margall – 19p, 2r
*Schultz – 23p, 11r, 2t
*Johnson – 22p, 12r, 2t
Jofresa – 0p
Crespo – 0p