In 1999, the cup was held in Valencia, where Baskonia, after three years of waiting, won the cup again. The Basques beat Caja San Fernando Sevilla in the final (70-61), with Beric leading the attack, and Bennett, MVP of the tournament, beating Turner in the bases duel
The Caja San Fernando sought out their options, (28-32), and for many minutes competed. But as the minutes went by it seemed that the Andalusians were getting too long in the final, and they definitely lost the chance to take the title.
Beric (19 points), Rusconi (15 points), Bennett (13 points) and Bonner (12), the top scorers on the Basque side. In the Seville team, Turner (19 points), Scott (18 points) and Romero (10).
Before…
Quarterfinals
Barcelona 87 – Unicaja Málaga 72
Valencia Basket 57 – Seville 58
Real Madrid 89 – Fuenlabrada 69
Baskonia 76 – Joventut 73
Semi-finals
Barcelona 79 – Seville 85
Real Madrid 74 – Baskonia 78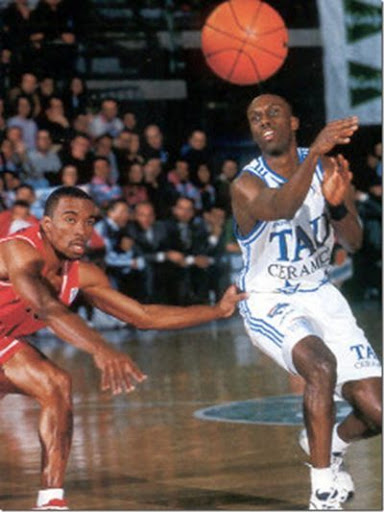 Baskonia 70
*Bennett – 13p, 5r, 4a
*Espil – 6p, 3a, 1r
*Beric – 19p, 4a, 1br
*Rusconi – 15p, 8r
*Bonner – 12p, 9r, 3a
L.Angulo – 2p, 3br, 2a
Millera – 0p, 2r, 1a
Winters – 3p, 5r, 2br
Sevilla 61
*Turner – 19p, 5a, 3br
*Schutte – 0p, 2br, 1a
*Smith – 9p, 3r, 2a
*Scott – 18p, 4r, 2br
*Romero – 10p, 9r, 3t
Odriozola – 2p
Kornegay – 3p, 4r, 1t
Bosch – 0p