In 1995 the cup was held in Granada, where they lived the first title of the competition for the Basque team, which beat Zaragoza in the final by (88-80), in a tournament where the MVP was for Pablo Laso, with the trident Green, Nicola and Perasovic making differences in the final
In a fairly even match throughout the first half (40-39), Baskonia made a breakthrough in the second to reach the final minutes with some ease to win the first cup in the history of the club.
Green (20 points 13 rebounds), Nicola and Perasovic, both with 17, Laso and Rivas, both with 11, formed a five starter at the end unstoppable, by the Basque side. In Zaragoza, the game pivoted on Bannister (20 points), Toolson (17 points) and Turner (15 points).
Before…
Quarterfinals
Barcelona 61 – Zaragoza 66
Students 87 – Andorra 86
Real Madrid 88 – León 74
Joventut 89 – Baskonia 96
Semi-finals
Zaragoza 84 – Students 75
Real Madrid 79 – Baskonia 86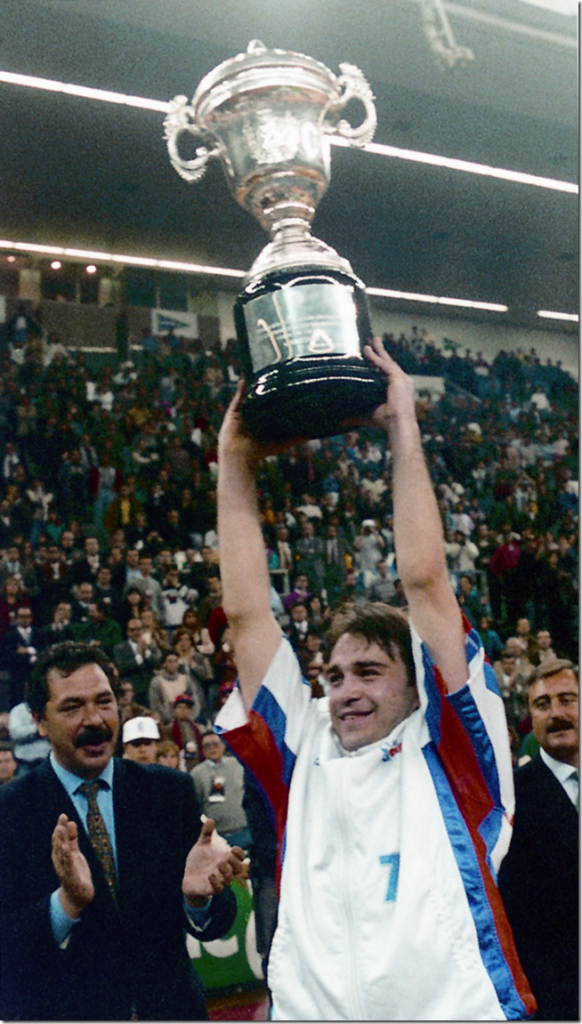 Baskonia 88
*Laso – 11p, 7a, 4r
*Perasovic – 17p, 3r, 2a
*Nicola – 17p, 3r, 2a
*Green – 20p, 13r, 2t
*Rivas – 11p, 9r, 2br
Abad – 4p, 1r
Radunovic – 6p, 3r
López – 2p
Zaragoza 80
*Turner – 15p, 5a, 3br
*Toolson – 17p, 3r, 2br
*A.Angulo – 7p, 1r, 1br
*Murcia – 11p, 5r, 1t
*Bannister – 20p, 5r, 2br
L.Angulo – 0p, 1a
Romay – 0p, 2r
P.Arcega – 8p, 3a, 2r
Zubizarreta – 2p, 2r