In 1994 the cup was held in Seville, where the final was marked by Tony Massebunrg being disqualified in the first minute of the game after hitting Ramon Rivas, who committed five personals in seven minutes on the court. Shortly after, Ken Bannister was also disqualified after hitting Quique Andreu. From then on, Barcelona always kept an advantage until the final whistle (86-75). Perasovic, despite not winning the title, took the MVP
In a final marked by the disqualifications, Barcelona handled the pressure better, and always maintained an advantage (40-32), important enough to take the cup without too many shocks in spite of everything.
Andreu (20 points) was the best of Barcelona, well supported by Crowder (17 points) and Jimenez (14). In Baskonia, Perasovic (25 points), Abad (15 points 13 rebounds) and Laso (13 points 9 assists), the best.
Before…
Quarterfinals
Real Madrid 78 – Ourense 67
Barcelona 74 – Unicaja Málaga 71
Joventut 71 – Baskonia 79
Students 86 – Ferrol 70
Semi-finals
Real Madrid 75 – Barcelona 81
Baskonia 97 – Students 93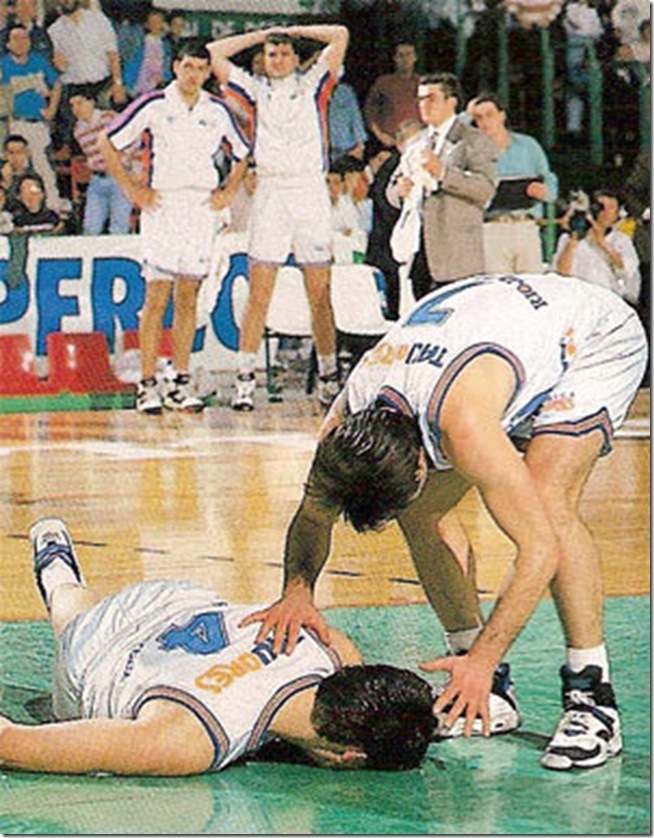 Barcelona 86
*Díez – 0p, 1r, 1a
*Crowder – 17p, 2br, 1a
*Jiménez – 14p, 8r, 1t
*Roberts – 11p, 4a, 3r
*Massenburg – 2p
Andreu – 20p, 8r, 2br
Montero – 7p, 2a, 2r
Alemany – 3p
Epi – 12p, 3r, 2br
Baskonia 75
*Laso – 13p, 9a, 6r
*Perasovic – 25p
*Abad – 15p, 13r, 1a
*Bannister – 0p, 1br
*Rivas – 0p, 1r, 1br
Talaverón – 4p
Reed – 14p, 7r, 1t
Gómez – 4p, 2br